To add a video onto your storefront:
Log in to your WeddingWire account at www.WeddingPro.com

Click the 'Storefront' tab from the top toolbar

In the left menu, click Videos

Click the Add Video button, or drag and drop the file to the video icon in the center of the upload box (surrounded by the dotted line).

A video icon will then appear below the uploader, with a progress bar to show the upload progress

Do not navigate away from this page during the upload!

Once the video has finished uploading, you will see it is Pending Review. The review process can take up to 24 hours.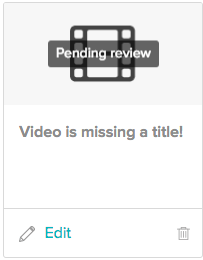 In the meantime, you can add a name and description by clicking the Edit button on the video tile

Enter a video name in the Title field -

required

Add a description -

required

Save changes
Once uploaded, you can select and drag videos to reorder them.
Be sure that any videos you upload meet the requirements:
AVI, FLV or MPEG format or YouTube or Vimeo links

Landscape orientation

Max 500MB

Be sure that the video showcases your services and does not include any contact information.
Loading video ... Video not found Error! Unable to load video